Conveyancing Costs and Conveyancing Fees
Get a Conveyancing Solicitor Quote with Fixed Fees
Our experienced conveyancing solicitors have helped thousands of our clients buy homes successfully, whether first time buyers or seasoned home movers. Our fixed fee conveyancing quotes are truly fixed with no hidden extras and we're rated Excellent on Trustpilot. Get a quote today and see for yourself.
| | | | | |
| --- | --- | --- | --- | --- |
| | | | | |
| Fixed Fee Conveyancing | No Sale No Fee | CQS Accredited Solicitors | On all mortgage lender panels | Rated Excellent on Trustpilot |
Conveyancing costs (such as the disbursements) and the conveyancing fees (the solicitors fees for buying or selling) should in theory be the same regardless of which solicitor, lawyer or conveyancer you choose to work. Surely the conveyancing process is the same and so should the conveyancing fees for doing the work? The challenge though is that the total costs for completing the legal work vary considerably depending on who you instruct.
Any online search can turn up residential conveyancing fees ranging from 'too good to be true' estimates (and note the word 'estimates'(!) - i.e. there's no sense in which an estimate is 'fixed') of £99 right up to £2000 or more.
What are the Fixed Price Conveyancing Costs?
Regardless of who you instruct to handle your conveyancing, the following are costs that you should budget for when buying or selling a home:
For buyers:
legal fees, stamp duty, land registration fee, property searches, ID searches, bankruptcy and priority searches and leasehold notices/charges (if buying a leasehold property; these include e.g. freeholder notice fee, deed of covenant fee, share certificate). Find out more about,
Solicitors fees for buying a house
For sellers:
legal fees, office copies, title plan and management information/leasehold pack (if selling a leasehold property). Find out more about,
Solicitors fees for selling a house
What are the total costs?
A conveyancing solicitor's fee is what they charge for all the legal work required to legal transfer from one person to another. Getting a
fixed fee quote
is vital if you want to keep control of your final bill; if you get an estimate instead, be aware that an estimate is not fixed and allows your bill to keep rising if your conveyancing encounters any issues.
These are just some things to budget for that are often shown as additional costs, when they are actually part of your solicitors' legal fees.
Bank transfer fees
Storage of documents/archive fee
Mortgage fee
Expedition/Fast Exchange fee
Reply to enquiries fees
Bankruptcy fee
ID fee
Postage, telephone and incidentals fee
Help to buy, right to buy, shared ownership and new build
What are the conveyancing fees?
Standard Conveyancing Work
A property solicitor has to take on all legal aspects of the conveyancing for their client, because it needs to be done by someone with the correct legal training, which most clients will not have undertaken. At the beginning, they check a client's ID and then proceed to drawing up or inspecting a contract. They inspect surveyors' reports They have to start by properly checking the IDs of their client but must also draw up or inspect contracts, examine surveyors reports and property searches and must give answers to any legal or other enquiries from the otherside and they must at all times be responsive to client enquiries and requests for progress updates.
With an estimated quote, a solicitor's firm may well add on a supplement for obtaining property searches on behalf of a client.
Mortgage work
If you're buying using a mortgage or selling but haven't fully paid back a mortgage you used to buy the property involved, your solicitor has to communicate with lenders to ensure matters are handled correctly and efficiently.
Conveyancing solicitors always charge more when a mortgage is involved but this should not prevent them from providing a fixed fee quote once the fact has been established.
Leasehold, Shared Ownership, Right to Buy, Help to Buy, New Builds
If a client's conveyancing involves any of the above, a solicitor will have to carry out additional work which invariably increases conveyancing fees.
Regardless of this and similar to the case of mortgages, a solicitor can easily establish these matters before working out a quote. The trouble is that often, an initial quote does not address these matters but you can rest assured they will be charged for!
Why do Conveyancing Fees vary so much?
The reason for different costs comes down to the conveyancer you get to complete the legal work for you. The three types you have to choose from are online conveyancing, high street solicitors and estate agent/mortgage broker referrals. Read on to find out the secret behind their varying conveyancing fees and the potential pitfalls of working with them.
Online Conveyancing
With conveyancing quotes advertised as low as £99, online solicitors and conveyancers are marketing low cost conveyancing to capture the attention of many. The challenge here often lies in the detail of what the actual final cost will be; either with additional charges (like budget airlines) and/or a slower and more stressful service due to the economies of scale - do more cases per conveyancer.
The best advice when working with a low cost conveyancing quote is to read the small print and check the online reviews. Bad service and over charging is often complained about on conveyancing forums and online reviews. You can read more about what to look for in additional charges here -
The Scam of Cheap Conveyancing
High Street Solicitors
The more traditional service can be obtained from a local high street solicitor. The legal costs are often higher than online conveyancing ranging from £700 to £1,000 for a property valued at £250,000 and this increases the more expensive the property transaction.
There can often be a feeling of paying more, getting more with high street solicitors, however this is not always the case which makes knowing who is actually handling your legal work even more important. When you get your conveyancing fee quote, ask who is going to be handling your conveyancing and then check their details on LinkedIn and on conveyancing forums to find out whether they have had good experience and whether they have had anyone moaning about their service.
Estate Agent Referrals
Most buyers use the solicitors their estate agents refer in the hope that this will lead to a more seamless transaction - or at least this is how the estate agent sells it to you. The conveyancing costs through an estate agent referral are often £200 more than a High Street Solicitor and this is normally because the High Street Solicitor pays a referral fee to the Estate Agent for the introduction.
With regards to the service or speed, the estate agent's solicitor will work at the same pace as any other, as they can only affect the work they do and can't speed up the otherside solicitors, the mortgage lender, management companies, local council, or even the solicitors further up the chain. This is why you should never truly believe an estate agent referred solicitor can make your conveyancing go any quicker.
Frequently Asked Questions
What are the solicitors fees for buying a house?
Solicitors fees for buying and selling a house are different because there is more work to do on a purchase. The conveyancing costs for buying a house should include:
Standard legal fees - The standard work should include all of the legal work to buy the property including reviewing memorandum of sale, office copies, property forms, contract, property searches, reporting of information found, exchange of contracts, completion and registration at the Land Registry.
Leasehold - There is a fee if you are buying a leasehold property
Mortgage - Mortgage Admin Fee if getting a mortgage
Bank charge - Telegraphic Transfer (TT) Fee to handle the funds
Affordable housing scheme - the solicitors fees for buying a house are increased by hundreds of pounds if you are buying using Help to Buy, Right to Buy, Shared Ownership or Discount Market Sale.
Whilst there is no set amount for solicitors to charge for their conveyancing fees so it is recommended that you research several firms and consider one with fixed fee conveyancing. What you pay will vary depending on the conveyancer, how much the house is worth, freehold or leasehold, the location of the property and if you are buying through any affordable housing scheme such as Help to Buy. What are the solicitor fees for selling a house?
The average cost of solicitors fees for buying a house is greater than it is for selling a house. The main reason is that there is less work to do when you sell a property so the conveyancing fees are less. Here is a breakdown of what work is done:
ID and AML checks
Review proof of funds
Order and review conveyancing searches
Liaise with mortgage lender
Review home buyer survey
Review all legal documents and raise enquiries
Exchange and complete
File SDLT and register at Land Registry




ID Checks
Download office copy, create contract and send to buyer's solicitor with complete property forms
Reply to enquiries
Exchange and complete



What is the difference between conveyancing costs and conveyancing fees?
Conveyancing fees are the legal fees your solicitor charges for doing the work and the third party disbursements or taxes that you are liable for such as stamp duty, Land Registry fees and conveyancing searches.
Proud of our Reviews


322 Google Reviews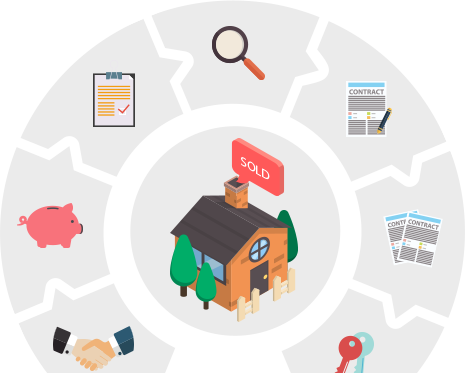 FREE Online Conveyancing Process for Buyers
Includes online checklists, videos, downloads and tips - plus it is completely free to use from start to finish and saves your progress along the way.
Log in