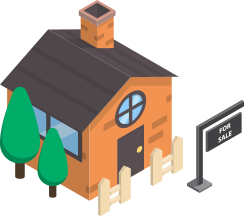 We've broken down the conveyancing process into 8 simple stages. Each stage has a video, links to useful articles, area to download your conveyancing searches and legal documents (SAM clients only) and an interactive to-do list so you can stay on top of all your jobs and know what your solicitor, surveyor and estate agent should be doing. It is a completely FREE service made for you so follow our easy to use step by step guide to make your home move the best move ever.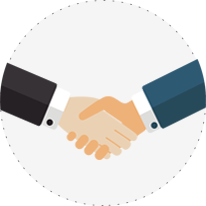 Post completion
Congratulations on buying your home! Now all that's left is to unpack, change addresses, pay stamp duty and register you as the new owner.
Conveyancing Process 8 Simple Step Guides
There are 8 stages of conveyancing so to help our clients we have this step by step guide guide and we break each stage down telling you what and when to do somehting.
1

Instruct Your Solicitor
5

Contracts and enquiries
Whether it's house conveyancing or conveyancing for a flat, all the above stages feature although buying a house is easier and faster than buying a leasehold flat due to the freehold enquiries and
leasehold information pack
.
Frequently Asked Questions
Why are there so many stages in the conveyancing process?
If you've yet to buy a house or are a current first time buyer, you might wonder why buying a house or a flat has has so many stages. The simplest answer overall is to think of the costs involved.
For most people, their first house conveyancing is by far largest sum of money they'll have ever spent in their lives. They'll have had to get assistance from family members with either
gifted deposits
or loans to put towards their deposits and many will be buying as couples rather than alone which in turn brings the expense slightly more within reach.
Given the sums of money involved, it's understandable that the whole process is about checks and balances, which have developed over centuries and which are essentially about ensuring that there's as few issues as possible and to weed out fraudulent behaviour and cheats. It's fairly understandable therefore that solicitors - as 'fit and proper' professionals - have been involved with buying and selling property for as long as they have.
It's very unlikely that you'd be able to buy a property from someone without having instructed a solicitor and virtually impossible if a lender is in any way involved. So from the very start, all the other parties need your bona fides and require these from each other.
ID Checks
Solicitors will therefore carefully carry out due diligence to convince themselves that they know who you are and who the other parties are before taking anything further. They'll even insist on carrying out a
Lawyer Checker search
if they've never dealt with a seller's solicitor before to ensure that they're safe to pass over the buyer's money on exchange and completion.
Conveyancing fraud
is on the increase and cyber-criminals are often ahead of the game, with online crime resulting in more than £1 billion in funds being stolen every year. It's worth noting however that most fraudulent crime isn't about clever algorithms, rather it's about plain old confidence tricks: in all aspects of business and life you need to protect your identity and banking details, for example and to be sceptical about any request for information which seems to come from a dubious source.
Proof of Funds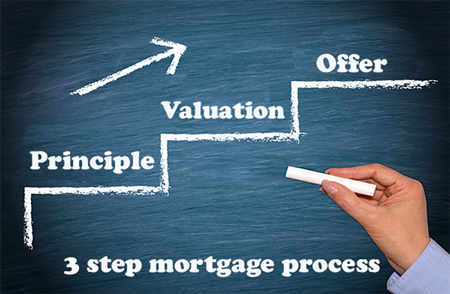 The next of the essential house conveyancing steps is about you as a buyer proving that your funds come from a legitimate source.
In recent years, the European Union has ramped up its laws throughout all member states regarding the scrutiny of funds coming from dubious jurisdictions - meaning either from states regarded as more corrupt or from 'politically exposed persons' - and any home buying solicitor is under threat ultimately of jail terms and unlimited fines if it's found subsequently that a property was bought with the proceeds of crime and they didn't carry out sufficient due diligence.
If you're
buying with a mortgage
, you'll most often have applied for and been granted a mortgage in principle before you instruct your solicitor - having such an agreement in place makes it more likely that a seller will agree to an offer you make - and you'll need to book in your
lender's valuation survey
as the next step in securing your final mortgage offer which you'll need prior to exchange.
You can book the valuation any time from when you instruct your solicitor and many do so on that day to achieve a
faster conveyancing
, however more cautious buyers have been known to wait until the contract pack arrives to be more sure that the sale will proceed and that they don't lose the money they have to spend on paying for this valuation.
Survey and Conveyancing Searches
These stages of conveyancing are variously about:
having a RICS property expert surveyor inspect the dwelling you're looking to buy for suspicions of any serious property defects, such as subsidence and rising damp; and
buying conveyancing searches which give you and your solicitor critical information about the land and surrounding area the property is built on.
If you're a first time buyer or intending to be, you'll most likely know about the home buyers survey mentioned (it's not the same as your lender's valuation which is about checking whether the property is worth what you're intending to pay for it).
It's understandable, however, if you don't know about conveyancing searches. They are short reports drawn from data held by local authorities, the Department for Environment, Food and Rural Affairs and other public bodies which examine matters such as whether your property is in an area which is due to be mined or known to be contaminated or subject to flooding and whether it's properly connected up to the water and drainage system.
These conveyancing searches are highly important in the conveyancing process. You'll most often be required to buy four of them if you're buying with a mortgage (lenders insist on this) but even as a cash buyer, you are strongly advised to get them anyway because even in the longer term, if you look to sell up to a mortgage buyer, their lender will insist on getting them.
If these searches turn up a critical matter such as the home being built in a radon-affected area, you might find it difficult to sell up and you would have been putting your health at risk without knowing it.
As a buyer you book these conveyancing searches any time from the day you instruct your solicitor. You have to bear in mind that in the case of one of these searches, the Local Authority Search, the turnaround time can be a few weeks so if you're looking for a faster completion the earlier you order it the better.
Many first time buyers however, mindful of the possibility of the seller pulling out before exchange, choose to wait at least until the
contract pack
is sent through which makes exchange more likely.
Contracts & Enquiries
In the buying a house solicitor process this is the stage when the seller's solicitor has sent across the draught contract conveyancing pack for inspection and the buyer's solicitor inspects all the documents in it along with the survey report and conveyancing searches and, on the basis of what's discovered, then
raises further enquiries
if any further questions need answering.
As a buyer you also can raise enquiries via your solicitor concerning any queries you personally have. The seller's solicitor gives answers to these enquiries where possible and these might require additional feedback from the seller.
Finally when all enquiries are answered or cannot be answered further, the buyer's solicitor drafts the report on title for the buyer to inspect and once the buyer has signed and returned this both buyer and seller can agree a date for exchange of contracts and proposed completion date and then move to exchanging contracts.
By this time, if the buyer is buying using a mortgage, the mortgage offer should have come in along with any conditions required and this must also be signed and returned in order to proceed to exchange.
Exchange of Contracts
This part of the buying a house solicitor process is where things get serious. From this point both seller and buyer are legally obliged to complete the sale/purchase and you can be sued for any number of costs if you don't.
In the case of the buyer, you have to hand over your deposit - minimum 5% of the selling price - and if you don't complete you stand to lose a full 10% in total of the price of the property as well as leaving yourself open to being sued, as stated. For more information, read our article about
pulling out after exchange of contracts
.
Completion
Of the conveyancing process steps, completion is the one which as a first time buyer you'll be most looking forward to: it's when the moneys have been wired to the seller and you can pick up your keys and move in!
Both sides will have had to sign the contracts (this being witnessed as well) and the buyer should book removals for the completion day on the exchange day and most of all, the money has to be in place and sent over correctly by the agreed date and time in order for the buyer to pick up the keys from the estate agent.
Post Completion
Of the conveyancing procedure steps, this one is strictly conducted by the property lawyers alone and is where as a buyer your solicitor satisfies the legal duties required by HMRC and the Land Registry.
You will have had to provide sufficient funds to pay for any required
stamp duty
owed in your completion monies in order to complete and your solicitor wires this money across to HMRC. Similarly you'll have had to provide funds to register your new ownership with the
Land Registry
and there's currently a backlog of 6 months or more before the register is officially updated.
Do you always have to get conveyancing searches even if you're a cash buyer?
Property buyers rather than sellers buy these conveyancing searches. As a mortgage buyer you'll be expected to buy a conveyancing search pack normally with a minimum of four searches, variously:
These searches provide your conveyancer with critical information about any notable conditions affecting the land your property is built on.
These four parts of a common conveyancing search pack variously give reports on planning charges and permissions affecting the property, whether it's attached to mains water and sewage pipes, whether there are any environmental issues, potential or otherwise affecting the property and whether the local parish has an ancient right to demand you pay for the upkeep of the local church.
Once your solicitor has examined all of these, depending on any issues that have been found or any absences of information, they then frame enquiries which they direct to the seller's side via the seller's solicitor and wait for answers. Depending on the answers given (or not), your solicitor might advise you that you are safe to proceed with the purchase although they might equally suggest you negotiate a reduction in price with the seller or even pull out of the purchase entirely.
Now as a
cash buyer
, you don't have to buy any of these searches. But whether you should is an entirely different matter.
You might be unaware that the loft conversion the property has did not get the proper
planning permission
and
building control
sign-off. This could mean that the conversion is dangerous and might mean that technically the property should have been advertised as having one less bedroom. An electrical rewire might have been carried out but if it didn't get the correct sign-off, that could also be dangerous. You won't be aware that you should either be getting retrospective sign-off or
indemnity insurance
to cover you.
More examples include the property being in a high
radon
area. This could mean if you choose to buy, you're putting yourself at a risk of getting lung cancer from radon, a colourless odourless gas which comes out of the ground and kills more people yearly than drink driving does in the UK. You wouldn't necessarily be alerted to this if you didn't get an Environmental Search.
Or one day, your local parish might demand you pay £3,000 towards the upkeep of the church roof. If this had been identified via a Chancel Search, you would most likely have indemnity insurance in place, and for say £200, which would cover you against a claim like this.
But most of all, as a cash buyer, you may well choose to sell up one day. You should consider that any would-be buyer intending to buy your property using a mortgage would be expected to get these searches. And it's at this point that any nasty surprises might be uncovered which could not only make selling up very difficult but might prove to be extremely costly to rectify. So buying conveyancing searches, even if you don't need to, is a great way to minimise risks such as these - and of course, might mean that you don't commit to a purchase in the first place. It should be clear, therefore, why a lender insists on these being bought: lenders after all are extremely cautious about how they lend their money!
Can you miss out any conveyancing steps?
Although the buying a house solicitor process is relatively standard, depending on the exact nature of your conveyancing sometimes there are fewer conveyancing steps or you have the option to reduce these. Typically there are two conveyancing steps which might be removed as we shall see and there can theoretically be others. Sellers don't have to pay for the two steps mentioned.
Theoretically you could opt not to instruct a solicitor but unless you're already highly conversant conveyancing law this would be extremely inadvisable and possibly ruinous financially and you'd find it virtually impossible to do so if any lender was involved.
If we accept that you'd invariably instruct a solicitor therefore, it's also a given that you'd need to prove your ID and give evidence of your source of funds in any conveyancing transaction. The stringent Anti-Money Laundering (AML) laws and other relevant laws such as the Terrorist Act mean that conveyancing solicitors always carry out due diligence on these matters.
The survey step, however is one you could miss out. There's no legal requirement to get a defect survey as a property buyer however typically, according to various studies, when defects are subsequently found after completion where a buyer didn't get a survey, that buyer then had to fork out at least £3,000 to correct them. If you're extremely unlucky and your property suffers from a serious case of subsidence for example, this might be £10,000s or more and, in recent times, Japanese Knotweed has sometimes decimated property values and made some homes completely unsaleable.
So in sum, you could miss out this step but would you ideally want to?
You have to get conveyancing searches as a mortgage buyer, but as referred to in an answer above, you don't have to as a cash buyer. Once again, this would be highly ill-advised however. You might save yourself £300 - £400 or so, but you might not discover something which could prove devastating and which might have even made you pull out of a purchase as too dangerous or likely to prove too costly in the future. If some building work hasn't been carried out properly, it might endanger your life but it won't necessarily have been brought to your attention without the local authority search. And when you come to sell up, a mortgage buyer's solicitor will certainly become aware because in this scenario, buying searches are mandatory. You might then find that your property is unsaleable for some reason.
Diagram of the Conveyancing Process and Time Scales